Bachelor in International Management
Kezdőlap ›
Bachelor in International Management
Program leírás
The ISG Bachelor's program is a three-year program taught 100% in English or in English/French and validated by our educational Partner Middlesex University in London, UK.
2 Tracks to Choose From
Differentiate by Choosing Which Language(s) to Study
Cultural openness and mastery of languages are indispensable in an international career. To best serve the needs of our French and international students, the Bachelor in International Management allows students to choose from two options:
Full English track (100% in English)
Progressive track (60% in English, 40% in French - 1st year only)
Graduate in Business and Management
Beyond building and sharpening their knowledge and skills, this program widens the student's networks, develops a global perspective, and cultivates a strong sense of identity.
In addition, it helps them foster professional networks through a number of events and activities which are very essential for their leadership development in today's economic environment.
The Bachelor in International Management program not only broadens and deepens the student's understanding and knowledge of business and management by its content but also strengthens communication, interpersonal and leadership skills through various associations and other collective undertakings.
Study One Semester Abroad
At the ISG, we also consider academic expatriation and international immersion as necessary keys to personal and professional growth. Therefore, each student can spend at least one semester abroad in complete immersion in one of our partner universities.
Complete Your Training with the Internship Program
Students are also required to complete an internship program and a senior project to graduate. The internship program aims to develop the student's understanding of how real-life organizations function, enhance their skills and gives them an opportunity to apply the concepts and knowledge learned in the classroom to real professional life situations.
Get a European Recognized Diploma
The rigorous curriculum fits into the European LMD scheme and is accredited (visé Bac+3) by the French Ministry of Higher Education. It is also recognized as a Bachelor's degree in the UK and globally. All coursework in the ISG Bachelor's Program is evaluated according to the European Credit Transfer System (ECTS). This system enables students to easily study abroad or transfer into our program and allows us to deliver a dual degree with a British university.
All You Need to Know about the Bachelor in International Management
Who is the program for?
French or foreign students:
Planning to pursue an international career
Seeking to be entrepreneurial, multilingual and open-minded leaders
Preferring a highly professional and pragmatic approach to business education
Interested in the American-British educational philosophy and practical experience in a multicultural environment
What distinguishes the ISG Bachelor in International Management?
A well-balanced curriculum exclusively
A choice between 3 tracks
A unique multicultural environment: faculty, students, networks, and locations
The opportunity to study abroad with one of our partner universities
A challenging yet supportive environment: individual coaching sessions and alumni connections
A prestigious address: ISG is in the heart of the 16th arrondissement in Paris, the most beautiful city in the world!
What are the aims of the program?
To provide the student with a strong academic and practical background to enter business life successfully.
To facilitate the graduate's entry into corporations or international organizations at a junior or middle management level.
To enable students to continue their studies in international studies or related fields.
What does a student develop?
An understanding of the business world,
Critical self-awareness,
The capacity for logical thinking,
The ability to communicate effectively,
An ability to manage resources.
Undergraduate Admissions
In order to apply to the ISG Bachelor in International Management program, candidates must have a secondary schooling qualification and an acceptable level of English.
Admissions Procedure
Admissions are based on the application package and entry exam results:
IELTS (International English Language Testing System); not applicable for native English speakers or for students who have already studied in English.
Interview in English.
Test Registration
Applicants to the ISG must submit their application package with all required documentation at least two weeks before the examination date.
Eligible applicants are then invited to an interview.
Application Package
The application must include:
The completed application form
A personal Statement (please answer the following question in an essay format: what makes you a perfect ISG Bachelor's student?)
Official copies of your diplomas in English (if not in English or French, please provide official translation)
Official high school transcripts in English (and or any other undergraduate programs you started for credit transfer)
IELTS Score
A JPEG picture
Copy of passport or ID card
CV in English
A letter of recommendation from a teacher or academic advisor
€80 application fee (non-refundable)
Incomplete applications will not be considered.
Transfer Students
Already completed coursework can be transferred, subject to equivalency with existing ISG courses and the student's performance. Please contact us for further information.
Utoljára frissítve dec. 2019
Az iskoláról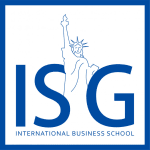 Since its founding in 1967, ISG has been developing a unique learning model based upon its strong identity and core values: Entrepreneurship Spirit, Creativity, Open-mindedness, Responsibility and Per ... Tovább
Since its founding in 1967, ISG has been developing a unique learning model based upon its strong identity and core values: Entrepreneurship Spirit, Creativity, Open-mindedness, Responsibility and Personal Development. ISG has a long record of educational innovation, using Anglo-Saxon methods of higher education and molding them to fit international needs. 22,000 graduates, including 3,000 students from the International programs, hold positions of authority in some of the largest multinational firms in over 60 countries. More than 60% of the graduates from the International Program have positions of international stature and 13% have created their own companies. The school is a member of the Association to Advance Collegiate Schools of Business (AACSB), CLADEA (Consejo Latinoamericano de Escuelas de Administración), the European Foundation for Management Development (EFMD), the Conference des Grandes Ecoles (CGE) and the Union des Grandes Ecoles Indépendantes (UGEI).
Kevesebb